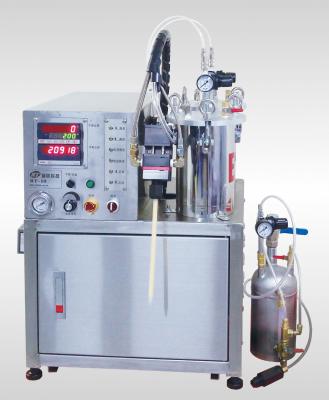 RT-10 Economical 2K Dispenser
Economical type of dispenser, available with basic feature & function. Suitable for material with medium viscosity and similar mixing ratio. No heater and agitator provided. The straight forward interface provides simple operation experience. A benchtop design also save space.
Suitable for 2-component Epoxy, Silicone, Polyurthane, Acrylic.

Tank Capacity:  2L.

Max shot volume: 200g/min.

Functions & Features:

 Fixed mixing ratio, setup ratio for 1:1 ~10:1 according to material property.

Stainless 304 housing, durable and easy to maintain.

Stainless 304 tank, suitable for general chemical.

Gear metering pump with motor, easy to adjust flow rate.

Mixing valve with disposable mixer, visible process to secure mixing result.

Available with manual dispensing and 1 auto shot volume setup.

Error display panel allow user to detect problem easily and reduce idle.

Error messages include: tank empty, pump & hose over pressure, low air pressure, motor overload…etc.
Optional Function:
D. Electrical dynamic mixing valve.