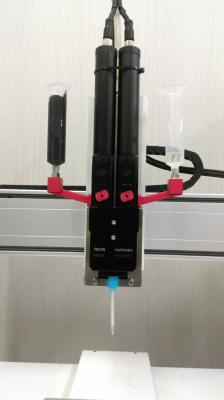 Micro Shot 2K metering pump
Small volume 2 component metering mix dispensing valve, designed for small shot to micro shot volume. Minimum shot volume 0.05ml.
Innovative & Compact PC Pump



Function & Feature:



     •Servo Motor Driven, provide precise volume control.
     •Wide range of viscosity applicabile.
     •Compact size, minimum weight
1.1kg.
     •Mixing ration range:
100:1~100:100
     •Max accuracy
±
1
%


•Syringe reservoir or large volume pressure tank applicable.
•3 size of pump available. (0.05ml,0.26ml,1.0ml
)
•Easy to maintain.