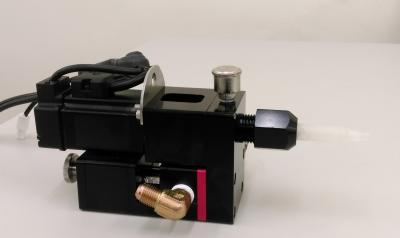 Dynsmic Mixing Valve
Dynamic Mixing Valve, suitable for 2 component material with distinct ratio and viscosities which can't be done with static mixing valve.
Dynamic mixing valve is designed for material with distinct ratio and viscosities.
Ray Think D-100/ D-150 dynamic valve is driven by high speed servo motor. When the 2 parts flowing into mixer, the mixing vane is able to rotate simultaneously with dispensing process to increase the mixing result.
Benefits: 1. increase mixing result,
2. driven by servo motor, speed visible and adjustable, error code feedback,
3. no noise and vibration which does not cause distressed operation experience,
4. esay to clean design with one switch trigger, compressed air and solvent will flush out from mixer.