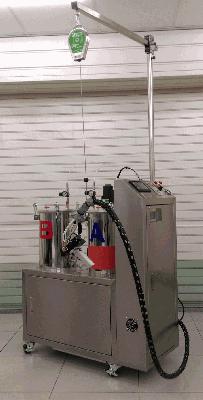 RT-35 Floor type 2K Disepnser
Standard dispenser, bench top model, suitable for general 2 component potting material. Optional heater and tank agitator available according to material property.
Suitable for 2-component Epoxy, Silicone, Polyurthane, Acrylic.

Tank Capacity: 20L.

Max Shot Volume:  500g/min.

Functions & Features:

 Fixed mixing ratio, setup ratio for 1:1 ~10:1 according to material property.

Stainless 304 housing, durable and easy to maintain.

Stainless 304 tank, suitable for general chemical. Flange top creates perfect sealing and makes gasket enduring.

Gear metering pump with motor, easy to adjust flow rate.

Mixing valve with disposable mixer, visible process to secure mixing result.

Available with manual dispensing and 8 auto shot volume memories.

PLC control system with color LCD touch panel.

Error messages include: tank empty, pump & hose over pressure, low air pressure, motor overload…etc.

Standby warning and anti-gel purging.

Regular maintain warning & setup.

Solvent tank available for mixer cleaning and re-use.
Optional Functions:

 D. Electrical dynamic mixing valve.

C. Hose circulation.

Tank agitator.

Digital tank and hose heater.