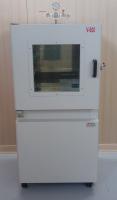 V400 Vacuum Chamber_複製
Vacuum Chamber, designed for product degassing.
Functions & Features:

Chamber ID: 400x400x400mm

Machine OD: W690xD650xH1280

Stainless 304 chamber, durable and easy to maintain.

Powder  coating housing.

19mm temped glass window.

Max working pressure: 5x10-3torr.

Standard 1HP oil flooded vacuum pump.

Pump capacity: 600L/min, max 2torr.

Manual ball valves for ON/OFF vacuum pressure 
Optional Function:
Heater---upgrade to vacuum oven with heater & PID controller.
Automatic valves--- using pneumatic / solenoid valve to replace manual ball valve.
Timer--- the digital timer allows user to setup required working time of vacuum pump.
Digital gauge--- optional 1" digital gauge provides easy to read value. By integration of digital gauge, automatic valves & timer, user can setup the required working pressure & time.